Catalyst - A New DiSC Platform
Learn about the new interactive web-based platform for Everything DiSC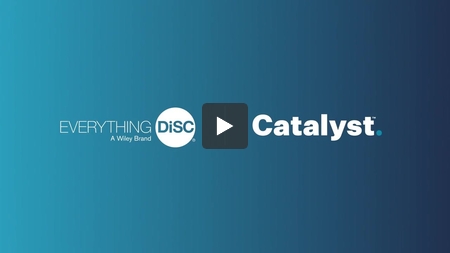 Sign up for our Catalyst Newsletter
Be the first to receive updates as Catalyst is expanded and improved!
"2020: Weirdest Year in History"
That quote appears on a t-shirt from Life is Good®. Pretty much sums it up. There is no need to recap the craziness that defined this year (which is still way too far from over). But the one shift that may be quite lasting is working from home.
A close friend of mine heads a small office of a large company. He was given the "all clear" to go back into the office with reduced staff, but he opted to keep working from home. He says he's more productive. And he figures the $150,000 spent on the office lease annually can be better spent elsewhere.
One of our very large corporate clients has told its employees that they can work from home "indefinitely". All of their training has gone virtual. They expect 2021 to be mostly, if not all, virtual.
With a New Reality Comes New Tools
While we have been hard at work converting custom curriculum to virtual, Wiley has been hard at work updating Everything DiSC® to reflect this new reality. This what they have accomplished in 2020:
That's a lot. And there is more to come as new applications are added to Catalyst and more virtual materials are released. Stay tuned! Or better yet, sign up for our Catalyst newsletter to get updates when they happen!